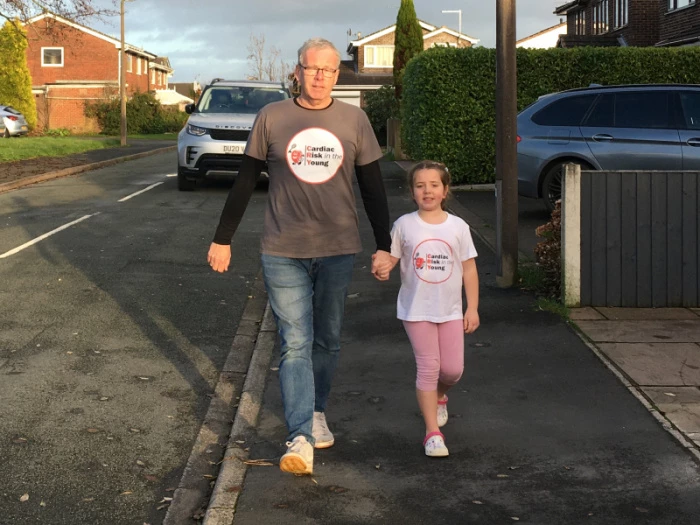 In the midst of the trying times we are all having because of Covid-19 there are people who just stand out by their actions, people who bring us hope and encouragement. There are adults who do that and there are children who do it. Frankie Hughes from Bignall End, one of our Brownies here at Halmer End Methodist Church, is one of those children.
Frankie, aged seven, recently moved to Brownies from the Rainbow Group. As a Brownie she is encouraged to work for various badges and one of those badges is a Charity Badge. Frankie was keen to gain her charity badge and she has walked more than eight miles and raised £2,523.94 in memory of her uncle.
She walked from the Bet 365 Stadium on Trentham Lakes to her grandparents' home in Bignall End on the Saturday before Christmas. Frankie was joined on the first half of the eight mile route by her grandad David Hughes, with grandma Sue and mum Kim walking the second half with her.
Frankie, and grandad David, set off from the football stadium at 9.45 am and walked to Sainsbury's in Newcastle. Her grandma Sue and mum Kim then walked with her from Newcastle through Chesterton to Bignall End arriving at the Plough pub some four hours after starting their walk.
Not only has Frankie earned her charity badge but she has raised £2,523.94 for Cardiac Risk in the Young (CRY).
The charity is close to the Hughes family after David and Sue's 28 year old son Daniel, a fit, healthy sporty postman, died in his sleep aged just 28 in 2015 due to an undiagnosed heart condition.
Since Daniel's death David and Sue with daughter Kim have worked tirelessly to raise £264,000 so far for CRY. The funds have provided free heart screenings to 2,308 young adults so far with many young lives potentially saved as they were referred for further investigation of a possible heart condition.
Well done Frankie you certainly deserve your Charity Badge and thank you for encouraging all of us to think about helping other people. Your practicing for the walk paid off. Well done to your mum, grandma and grandad for all the support and encouragement they have given you.
If you would like to find out more about Dan's story and the work that the Hughes family do then please visit the web site here.
Frankie's donation page will be closing soon (January 2021) but the main page stays open permanently and can be accessed hereif you would like to donate to CRY.