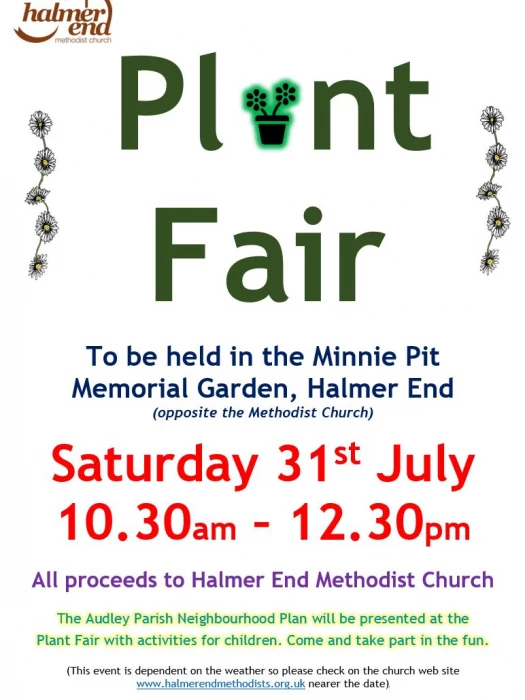 Plant Fair
We have arranged for a Plant Fair in the garden opposite to the Chapel on Saturday 31st July from 10.30 am until 12.30 pm – this event is weather dependent so please look on our church web site or the Facebook pages for Friends of Halmer-End CIC Official, Alsagers Bank Community Group, Audley Community News, Audley Parish – A Parish for Everyone or WHAT'S ON in Audley and Surrounding Villages :
Our attached pdf images detail the plants which are presently available (28th July 2021)
Proceeds to Halmer End Methodist Church
Neighbourhood Plan
The Audley Parish Neighbourhood Plan will be presented at the Plant Fair and a representative of the group will be at a stand to answer your questions and possibly ask you a few too.
What is a Neighbourhood Plan?
A neighbourhood plan puts in place planning policy for a neighbourhood area (such as in this case Audley Parish) to guide future development. A neighbourhood plan is about the use and development of land and may contain a vision, aims, planning policies, proposals for improving the area or providing new facilities, or allocation of key sites for specific kinds of development. It may deal with a wide range of social, economic and environmental issues (such as housing, employment, design, heritage and transport) or it may focus on one or two issues only.
A robust programme of community engagement and proportionate evidence base should help to make sure that a neighbourhood plan is based on a proper understanding of the area and of the views, aspirations, wants and needs of local people. Producing a clear project plan with key milestones could be helpful in guiding the plan-making process.
On Saturday 31st July from 10.30-12.30 there will be the first public community engagement at the Halmer End Chapel Plant Fair There will be an interactive display for all, and those that wish to participate can express their ideas to the representative present. There will also be two activities for younger people; planting a sunflower seed and designing a logo for the plan. Those designing a logo can have their drawing entered into a competition where the winning entrant will receive a prize voucher.